What is 'carbon footprint' all about ?
Climate change and carbon footprint
A carbon footprint is an accumulation of 'greenhouse gases' (or climate-changing gaseous emissions) in the earth's atmosphere.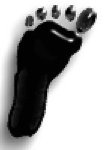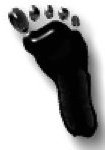 Whose footprint?
A 'carbon footprint' results mostly from the combustion of fossil fuels, which releases CO2. This means that wherever fossil-fuel energy is (or has been) used, there is a carbon footprint. However, other potent greenhouse gases (methane CH4, nitrous oxide N2O, perfluorocarbons PFCs, sulphur hexafluoride SF6 and hydrofluorocarbons HFCs), also included in calculating carbon footprints, come from agricultural and industrial activities.
Whatever your business sectors and activities, whether you are manufacturing specialist products or delivering everyday services, this will leave a carbon footprint. How big is it? How can it be reduced?
Key concepts:
'Carbon footprint' is an analogy to represent the amount of climate change emissions (or 'greenhouse gases') resulting from an activity.
A carbon footprint is measured in CO2 tonnes equivalent (T CO2e) because CO2 is the best-known - and most common - of the greenhouse gases.
All kinds of activities have a carbon footprint: agriculture, industrial processes, transport, services...
For many businesses, combustion of fossil fuels is the main contribution to their carbon footprint.
'Carbon neutral' is applied to organisations which have minimised GHG emissions as much as possible and compensated for any residual emissions.